Ustream Web Broadcaster
The easiest and fastest way to stream is with Ustream's free, browser-based Broadcaster. It works automatically with your built-in camera and mic, or you can connect USB accessories for higher quality. Record and save streams for on-demand viewing.
Compatible cameras
Go live now with the Web Broadcaster
Ustream Producer
Ustream Producer includes everything you need to do a professional broadcast on your Windows or Mac computer: HD broadcasting, multi-camera switching, screen capture, VOD file playback and support for Firewire, HDMI and HD-SDI cameras.
Compatible cameras
Built in webcam and mic
HDMI Cameras (via capture cards)
SDI Cameras (via capture cards)
Learn more and download Producer
Ustream Mobile Apps
Ustream free iPhone, iPad and Android apps allow you to broadcast live video from anywhere. Share moments or capture breaking news events in real-time, wherever and whenever they happen. Allows broadcasting on 3G, 4G/LTE and WiFi.


NewTek TriCaster
The NewTek TriCaster is the world's leading all-in-one, integrated live production system. Connect multiple cameras and audio and add graphics, video playback, titles and more. Multiple simultaneous outputs let you project, record, and stream. Built in Ustream integration makes streaming as easy as the push of one button. Learn more about NewTek TriCaster
Teradek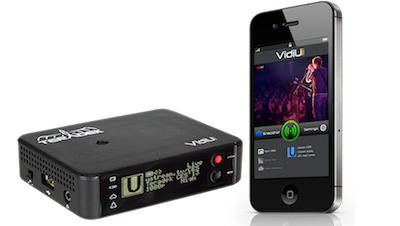 The Teradek VidiU is a portable HD h.264 / AAC encoder with HDMI input and capability to stream at resolutions up to 1080p. Broadcast over ethernet or WiFi, or connect an optional 4G usb adapter, use the internal battery and camera mount for truly portable streaming. A companion iPhone / iPad app and built in Ustream integration makes streaming simple. Learn more about Teradek products
Digital Rapids
Digital Rapids StreamZ and StreamZHD ingest and encoding systems combine enterprise-grade hardware with flexible software in a robust configuration that integrates easily into any professional environment. Supports both HD streaming and closed-caption streams to Ustream. Learn more about Digital Rapids encoders
Elemental Live encoders
Elemental® Live is a video processing system that merges the benefits of massively parallel hardware with the flexibility and forward compatibility of intelligent software. Elemental Live executes simultaneous processing and encoding of multiple adaptive bit rate outputs, delivering the high-quality, high-efficiency performance required for streaming live video. A single Elemental Live system can perform the work of more than four CPU-only encoders. Learn more about Elemental Technologies
Capella Systems Cambria Live
Capella Systems Cambria Live is a reliable, enterprise-level encoding software with integrated SDI capture card. Advanced scripting and API capabilities allow for total control in complex broadcast workflows. Built-in file conversion for drag and drop playback of video files of any format. Ustream API integration makes streaming simple. Learn more about Cambria Live
LiveU
LiveU's backpack / portable solutions include multiple 4G LTE/3G, HSPA+, WiMAX and Wi-Fi cellular links to allow live video transmission from any location around the world. LiveU products are configured to work directly with Ustream and don't require additional purchase of cellular data plans or server setup. Learn more about LiveU products